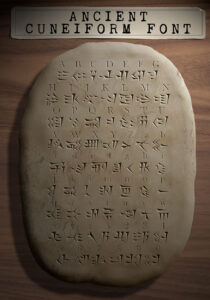 Can also be purchased via DriveThruRPG
The ancient text appears on a number of curious tablets, discovered by Stapleton McTavish the famous explorer and collector of ancient occult artifacts, each one depicting disturbing carvings. They are believed to have been the inspiration for the Mad Arab Abdul Alhazred's monstrous Necronomicon.
Create your own blasphemous RPG handouts with this custom made TTF font file. Use in Word, Excel, or use Photoshop or GIMP etc…. to create that carved horrors look (tutorial included).
Alternatively you can check out the ready made ones in The Vaults of McTavish.
Ancient Cthulhu Cuneiform Tablet I – Dark Young of Shub-Niggurath
Ancient Cthulhu Cuneiform Tablet II – Nyarlathotep
Ancient Cthulhu Cuneiform Tablet III – Cthulhu
or purchase all three
Ancient Cthulhu Cuneiform Tablet Bundle
For more information about the life and discoveries of Stapleton McTavish, visit www.thevaultsofmctavish.com
For updates on upcoming projects and WIP please check out FACEBOOK and TWITTER
Please note that this is for personal use only. If you wish to discuss a commercial license please Click Here to contact me
© Stacey Marshall